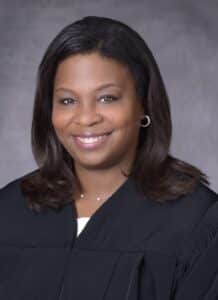 Honorable Michelle Williams Court
Judge Court was appointed by the Supreme Court as a CJEO member in 2023.  She began her judicial career in 2012 with her appointment to the Los Angeles County Superior Court where she serves as a Supervising Judge of the Civil Division.  Judge Court has also served her court on its Executive Committee, as the chair of its Technology Committee, and on several administrative committees, including the Los Angeles Superior Court's Primary Assignment Overview program in Family Law, the Operational Planning Committee, the Education Seminar Governing Committee, the Judicial Mentor Program Outreach Committee, and the Bench and Bar Committee.
Statewide, Judge Court has served the judicial branch on the Judicial Council's Civil and Small Claims Advisory Committee, the Probate Conservator Taskforce, and several Technology Workstream Committees.  Judge Court has also served as faculty for the Judicial Council's Qualifying Ethics Program, as chair of the Civil Self-represented Litigant Subcommittee of the Commission on the Future of California's Court System, and on the Language Access Plan Implementation Taskforce.  In her community, Judge Court has served as Vice President of the Board of Trustees of the Los Angeles Law Library.
Judge Court has been recognized for her service with, among other awards, the California Association of Black Lawyers Judicial Award of Excellence and the Woman Lawyers Association of Los Angeles Distinguished Service Award.