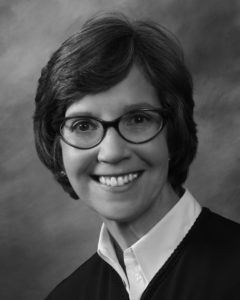 Justice Miller was appointed by the Supreme Court as a CJEO member in 2017.  She began her judicial career in 2005 at the San Francisco County Superior Court where she served in both criminal and civil assignments, including the law and motion department.  Justice Miller was appointed to the First District Court of Appeal, Division Two, in 2014.
She currently serves as the chair of the California Supreme Court Advisory Committee on the Code of Judicial Ethics and as a member of the Judicial Council Civil Jury Instructions Advisory Committee.
Justice Miller previously served on the Judicial Council Access and Fairness Advisory Committee and the executive committee of the San Francisco Superior Court.  She is a past president of the Edward J. McFetridge American Inn of Court, past president of the San Francisco Women Lawyers Alliance, and a past member of the board of directors of the Bar Association of San Francisco, the State Bar of California Committee on Women in the Law, and the Association of Business Trial Lawyers.
Justice Miller has taught courses to other judges on many topics, including judicial ethics, evidence, and jury trial management.