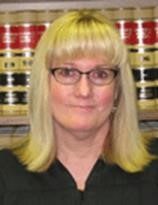 Presiding Judge Kingsbury was appointed by the Supreme Court as an initial CJEO member in 2009.  Her judicial career began in 1996 when she was elected to the El Dorado County Superior Court. She has been her court's presiding judge for over 18 years and has presided over civil, criminal, juvenile, family law, probate, and appellate matters.
As presiding judge, she has been instrumental in developing programs and services for litigants in her court, including self-represented litigant services, juvenile and adult drug courts, alternative dispute resolution services, mental health court, and a joint jurisdictional court in partnership with the Shingle Springs Band of Miwok Indians.
Judge Kingsbury has served the judicial branch and the public as a Judicial Council member, and on its Tribal Court-State Court Forum, Strategic Evaluation Committee, on the Court Management System Oversight committee, the Trial Court Presiding Judge executive committee, and several other Judicial Council committees, task forces, and working groups.
In addition to CJEO membership, Judge Kingsbury's judicial ethics experience includes serving as a special master for the Commission on Judicial Performance.
Judge Kingsbury is actively involved in judicial education as a faculty member and facilitator at the Center for Judicial Education and Research (CJER), where she has also served as a member of CJER committees on continuing judicial studies, rural courts, presiding judges, and court executive education.  She has also been an adjunct instructor in the criminal justice program at Lake Tahoe Community College.
Judge Kingsbury has the distinction of being the first woman to serve on the El Dorado County Superior Court and has been its longest serving presiding judge.